We unearth better. For people and the planet
Botanics was created with the pioneering vision of creating natural, plant-powered products that don't cost the earth. And to protect the earth as we do it. Fast forward to the present day and our passion is still plants.

They power everything we do. We challenge perceptions of what's possible, unearthing the most powerful extracts to create natural solutions that really work; to enhance your skin and your wellbeing. All without compromise, to pursue a better tomorrow.
 
5
categories offering top-to-toe wellbeing solutions 
25
years of highly effective formulations powered by plants 
2020
Cruelty Free International 'Leaping Bunny' certification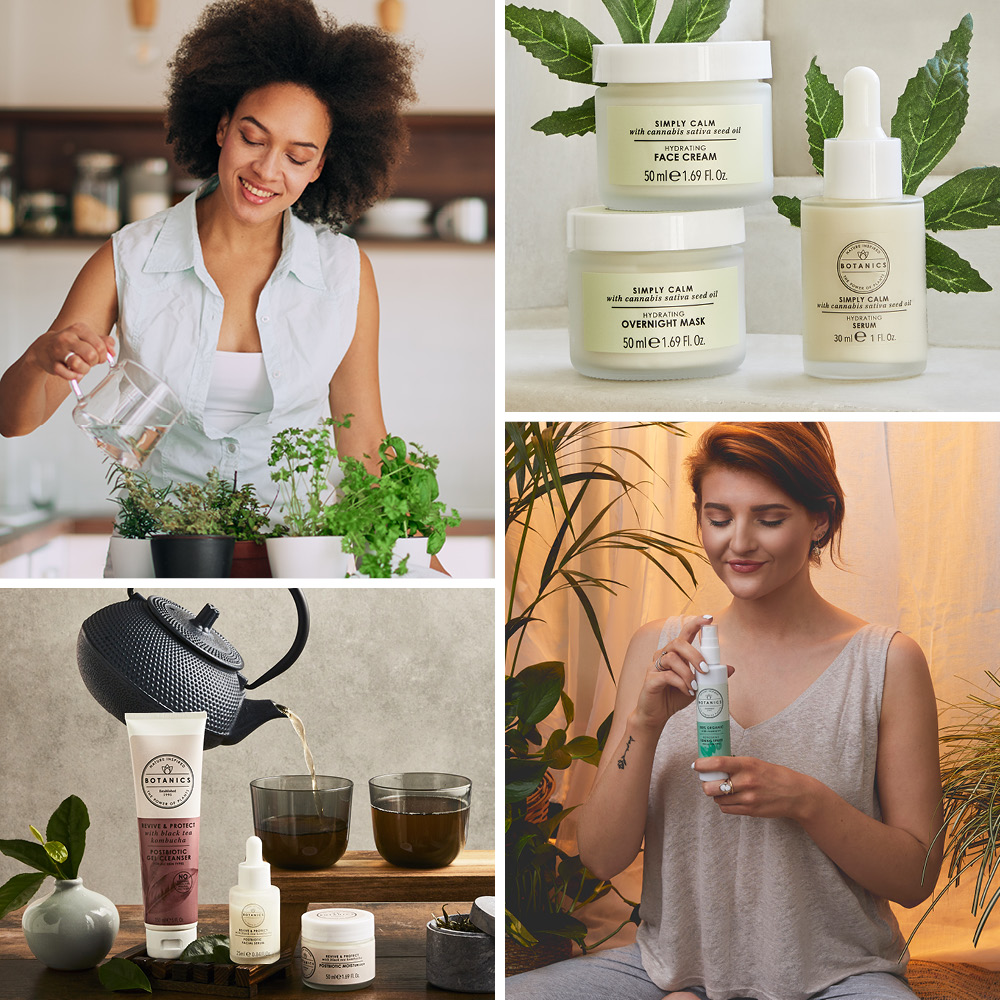 We Make the Right Choices Easy
Our passion has always been plants. We create natural solutions that deliver holistic benefits such as great skin, a calm mind and a balanced soul. 
We are all about Efficacy, Equilibrium and Ethics. Our plant-powered products do good for people and the planet, protecting the world we live in and reducing our impact on the environment. All Botanics products are formulated with honesty, integrity and transparency from natural, ethically sourced and sustainable ingredients.
We're designing all our packaging for reuse and recyclability. All of our paper and wood packaging is Forest Stewardship Council (FSC) certified and all our plastic tubes and bottles include at least 25% post-consumer recycled material. 
For more information, visit boots.com/botanics. 
100% Organic* Overnight Facial Oil
Our 100% Organic Restoring Overnight Facial Oil works in harmony with the skin's natural night time process to help nourish and restore skin while sleeping.

*Organic % calculated according to ISO 16128.
Peaceful Night Pillow Mist
This relaxing Pillow Mist helps to naturally calm the mind and prepare for a peaceful night's sleep. Made with a soothing blend of Lavender and Sweet Marjoram oils, this Pillow Mist helps to relax body and mind to encourage inner peace before sleep.
100% Organic* Nourishing Facial Oil
Non-greasy and fast absorbing, we've infused the formula with Organic Rosehip extract which is rich in nourishing omegas and essential fatty acids, for a healthy-looking complexion. A couple of drops help to nourish skin, locking in moisture for hours.

*Organic % calculated according to ISO 16128.
It's in Our Nature to be Nicer
25 Years of Plant-Powered Products
Botanics launched in 1995 with four skincare products made using natural extracts, scientifically formulated to deliver the most effective natural skincare. From the early days, we've continued to develop and launch new ranges, with our in-house experts creating plant-powered products that are good for our skin, wellbeing and the planet. 
Today our broad product range includes skin, body, aromatherapy, mens, gifts and accessories but we've always stayed true to our roots. Searching out new traceable pure plant extracts like Black Tea Kombucha and Cannabis Sativa (hemp) seed oil we strive to lead the way in naturally effective beauty products that don't cost the earth.
We Challenge Perceptions with the Power of Plants
We Challenge Perceptions with the Power of Plants
We're here for everyone who's looking for natural and effective self-care that doesn't cost the earth, and who also cares about the world around us.  
Not only are plants proven to enhance skin - they've been used by civilisations for millennia to enhance mind, body and soul. That's why we're committed to harnessing the power of plants for your skincare rituals and beyond to help you achieve a better balance in life.  
Most of our products are completely vegan and many include adaptogen and ayurvedic ingredients such as rosemary, aloe vera and hemp. Our organic beauty range contains at least 80% organic ingredients, and all Botanics products are approved cruelty free under the 'Leaping Bunny' programme.