We are masters in the art and science of Aromatherapy
Aromatherapy Associates is an award-winning British luxury brand that believes in the transformative power of essential oils to support positive wellbeing.
For over 35 years, Aromatherapy Associates have created restorative products for stress, anxiety, sleep, energy and skin health, powered by therapeutic aromatherapy.
In 2020 we joined the B Corp movement and in 2022 were awarded the Leaping Bunny status by Cruelty Free International; important moments in our company's history which confirm our commitment to both people and the planet.
5x
winners of the World's Best Aromatherapy Brand at the World Spa Awards. 
2020
Aromatherapy Associates joined the B Corp movement
2022
Accredited Leaping Bunny status by Cruelty Free International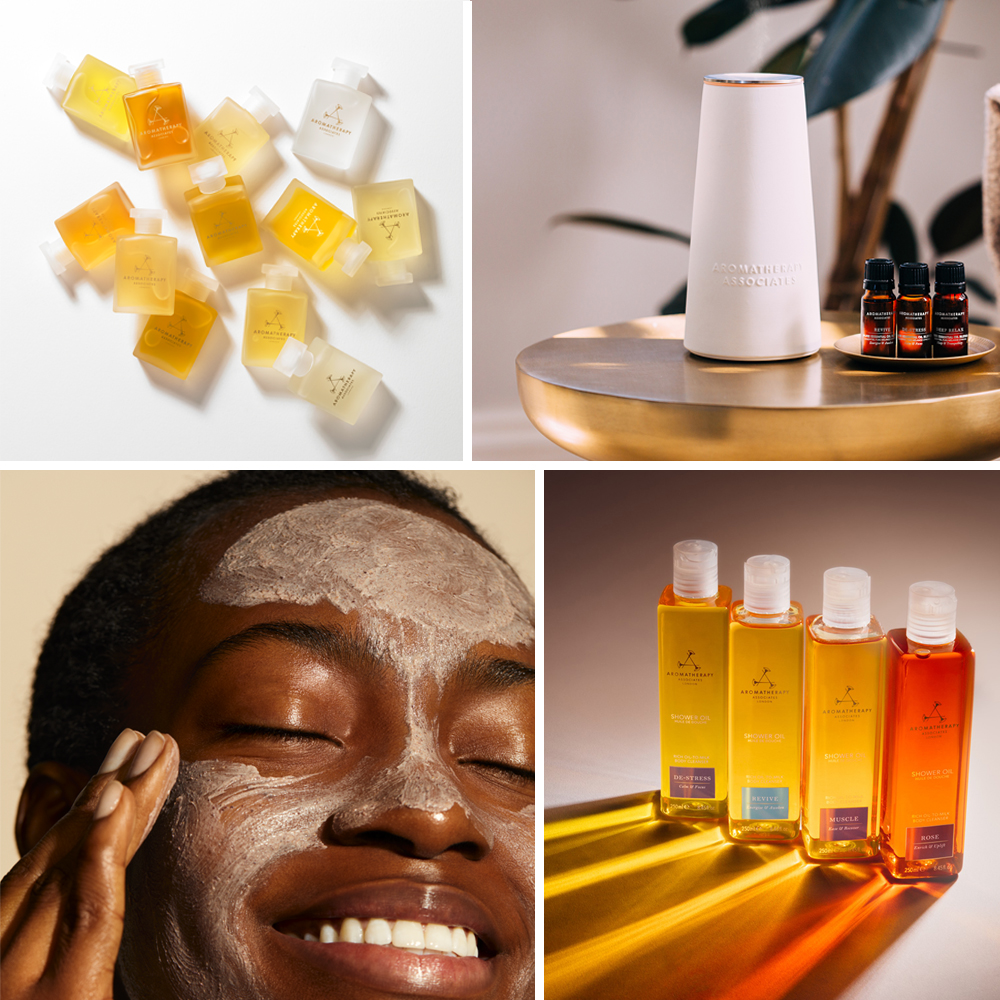 We seek the highest quality ingredients to create our mood, spirit and mind-enhancing formulations. At the heart of our brand is spa expertise, ensuring each product is hand-crafted with pure, natural essential oil blends for the ultimate aromatherapy experience. We use the highest concentrate of essential oils, with the right percentage of each oil to truly deliver the specific benefit required. They are combined with effective high-grade actives to create self-care icons that deliver demonstrable impact, setting mind and body back into balance. 
Deep Relax Bath & Shower Oil 55ml
This was one of the first products created by our co-founder, Geraldine Howard following her own struggles with getting to sleep. This calming concoction contains grounding vetiver and camomile to soothe and sandalwood to help feel relaxed, all of which combine to help you drift into a peaceful slumber.
The Atomiser allows you to seamlessly switch between any of our Diffuser Oils and disperse micro-fine mists directly from the bottle, which throws the scent across your home to match every mood and meet every wellbeing need.
Deep Relax Sleep Mist Spray 50ml
This gentle mist harnesses the powers of sandalwood, and can be applied to your skin, bed linen, body and pillows. Ideal for those who need a helping hand with nodding off.
From day one, I always believed in creating blends with intent and purpose – to help individuals in pairing them with their perfect therapeutic blend.
Starting out as therapists in the early 1970s, our founders, Geraldine Howard and Sue Beechey, connected with the emerging practice of aromatherapy.
Training under renowned aromatherapist Micheline Arcier, who had herself studied aromatherapy with its original pioneers Marguerite Maury and Jean Valnet M.D, they experienced first-hand the powerfully positive effects of essential oils on our physical and emotional wellbeing.
In 1985, Geraldine and Sue's passion for teaching, practicing and blending oils spilled into a desire to share the benefits of aromatherapy with a wider audience. Aromatherapy Associates was born with a small range of therapeutic-grade products and treatments for their VIP clientele.
We continue to celebrate and share the wonders and benefits to a wider audience, with an ever-growing range of award-winning products and transformative treatments that can be found all over the world.
Working to Restore Your Skin's Natural Balance for Healthier Looking Skin
For almost four decades we have served the wellness needs of today via therapeutic aromatherapy, providing daily moments of luxury self-care in spa and at home.  Right from the very start, our founders were passionate about fulfilling a greater need to be custodians in the art of aromatherapy and educate the world on its benefits.
We are committed to prioritising people, planet and community through initiatives that deliver on this promise. We work to adopt and promote the most positive practices throughout our business model and operations and share our journey and achievements with colleagues and industry partners, so that we set the new standard for social and environmental responsibility in our sector.