We believe in creating beauty for everyone, which is why we feel so strongly about recognizing and celebrating our differences. Wherever we work in the No7 Beauty Company we're all empowered to bring our authentic selves. We share a culture where racial diversity, equity and inclusion are at the center of everything we do to create truly diverse brands.
We Have a Talented and Diverse Team
We know talented and diverse teams bring new perspectives at all levels and create the conditions where everyone can thrive. Our inclusive recruitment approach ensures every shortlist of candidates for interview is diverse and so too are the interview panels used to appoint them. Increasing the diversity of our interview slates and panels means more opportunities to hire fantastic team members and support talent into future senior roles.
All of our team members spend the equivalent of one day per quarter on learning activities related to diversity, equity and inclusion. With unconscious bias learning for all and training for managers to lead inclusively - we make sure everyone can play an active part in developing our culture. Our support groups set up by people from across our business, offer a safe space to share ideas and be heard, while book and film clubs encourage open minded discussion. And so that we continue to lead for change, our Racial Equity Action Board meets regularly and highlights further actions we can take.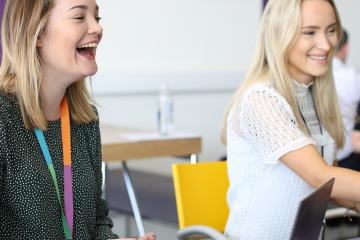 This way for beautiful career opportunities in the UK and ROI, U.S. and Asia.
We're proud to embrace diversity and foster a strong sense of belonging within our brands. Our commitment to growing representation within our teams comes from all of us, with every leader resolute in their role of nurturing diversity, equity and inclusion every day. To lead and work in No7 Beauty Company is to have zero tolerance for any racism or discrimination and we take this seriously.
Change starts with each and every one of us, which is why diversity, equity and inclusion goals form part of our personal development. We're encouraged to own our ongoing education and learning, and take every opportunity to understand new perspectives. To keep us focussed we have company-wide diversity measurements which also form a key part of our bonus scheme.
We Build Brands that Represent Our Consumers
Our strong dedication to diversity, equity and inclusion is embedded in everything we do, from the way we research and test our products, to the ranges we produce and how we advertise our brands. And with our ethical supplier partnerships, we're helping a number of small businesses be part of our successful brand stories.
Each of our brands take extra steps in their own way to support the people and communities of which they're part. For example, Sleek MakeUP's LevelUp campaign celebrates and supports talented individuals who deserve to be recognized to achieve their goals.
The No7 Unstoppable Together movement empowers women who have been stopped in their tracks by COVID-19. We recognize that by using our brands to help others we continue on our journey to an ever more diverse, inclusive and better business.